A Texas Company
A Family Business
David Peters, President and Partner
Dave is one of the company's partners has worked in the construction industry since 1982. David brings an exceptional degree of technical competence and expertise to customer's projects. He is the founding Partner of Lone Star State Construction, LLC and leads the company with a fresh vision of how to serve customers' needs and exceed their expectations. His vision of what the construction process should and can be in order to run a well oiled machine is what drives his commitments, values and actions. As a result, he has built a company with a strong reputation for integrity, quality, dependability, thoroughness and exceptional customer service. Dave is responsible for overseeing all Project Managers, Superintendents, writing contracts, doing estimates, construction troubleshooting and taking care of the accounting for the company.
Prior to founding Lone Star State Construction, LLC, Dave worked as a Senior Builder for Medallion Homes, a local builder here in San Antonio, where he oversaw the building of 45 homes in two years. He was also a Project Manager for a large General Contracting company in Colorado where he managed several large projects including an 18,000 square foot home in the mountains for 14,000,000.00, which took 3 years to build. Dave opened up his own General Contracting Company in Colorado and his first job was to build a 5,000 square foot addition to his local fire department, Eagle Fire Station, a second home to him being that he served as a volunteer fireman/EMT for 6 years while living in Colorado. Dave also has experience is being an on-site Superintendent as he worked for Pulte Homes for several years in Virginia overseeing the building of over 200 homes. Dave started his construction career at the School of Hard Knocks by actually wearing his tool belt and reading blueprints and drawing plans.
Dave studied architecture at Northern Virginia Community College after graduating high school while simultaneously opening up his first Construction Company, 3D Renovations, with his brothers Don and Daren. The same two brothers that now are his partners 27 years later.
Don Peters, Vice President and Partner
Don brings over 20 years of Project Management experience and over 20 years of internet and marketing experience to the team. A product of The Citadel and US Army, he retired at the rank of Major flying UH-1 helicopters and C-12 airplanes and is a Desert Storm veteran. His post-military years included Information Technology project management with various companies including Computer Sciences Corporation and USAA Insurance. He is a three time #1 Best Selling Author of five books and has been profiled in several newspapers, books and TV shows for his work selling big ticket and unusual items on eBay. He also created a business to help authors become #1 best selling authors and has done a few stints on the speaker's circuit.
Don is a founding partner, Project Manager, and IT Manager. He also uses his computer/online experience to bring new technologies, social marketing, and internet marketing to this brick and mortar family business. Don is the Vice President of the National Association of the Remodeling Industry (NARI) San Antonio Chapter.
Daren Peters, Vice President and Partner
Daren is a partner at Lone Star State Construction and comes to the team with over 30 years of construction experience. He folded his Colorado Quality Installations company to join his brothers and son to help build LSSC to the company it is today.
Jason Peters, Partner
Jason is a founding partner at Lone Star State Construction and has been involved with the construction industry most of his working life. Before Lone Star State Construction, Jason worked for his father (Daren), Installing tile for the "Millionaire Elite" in Eagle County Colorado. He grew up in construction and was quickly exposed to many of the trades involved in general contracting (carpentry, drywall, electrical, plumbing, etc). Being a second generation master tile installer, Jason has honed his craft with strict attention to detail, and his custom bathrooms are the envy of people throughout San Antonio.
Being a partner in Lone Star State Construction he has learned to use his experience to master some of the other trades. Jason is an Assistant Project Manager and is continuously learning the aspects of every position in the company. On your project Jason could assume the role of estimator, supervisor, tile installer, fabricator, or handyman.
Frank Cantoya, Project Manager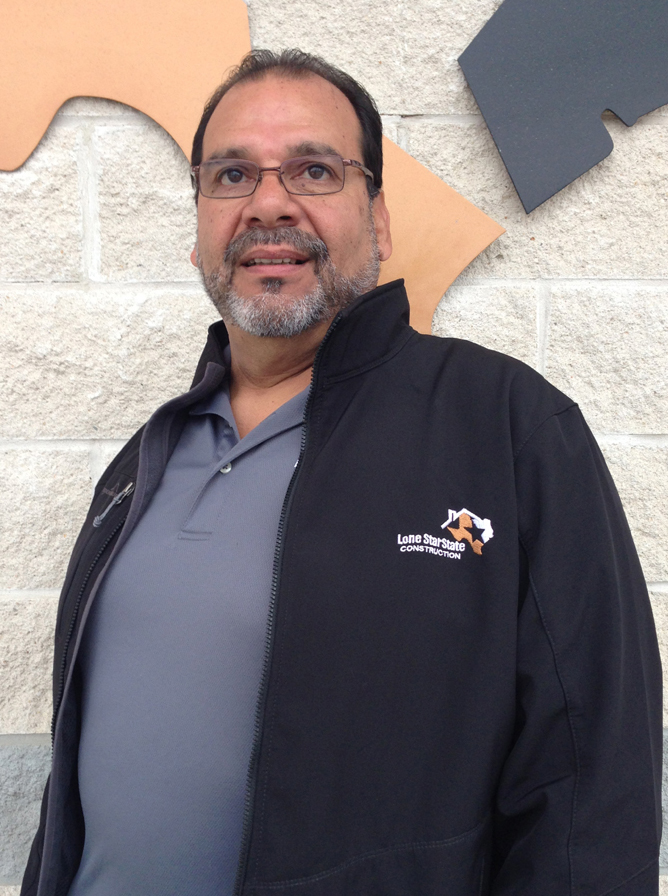 Frank Cantoya is a lifelong resident of San Antonio. He graduated from Trinity University with a B.S. in Business Administration. He has been involved in the construction industry for over thirty years. He began by working summers as a carpenter while still in school. This lead to ten years as a contractor, working primarily for realtors and General Contractors. One of those General Contractors hired him as a superintendent and Frank found his calling. He spent the next several years as a superintendent for interior and exterior remodeling. Frank then moved into disaster management, overseeing repairs to homes that had been damaged due to floods, fire, smoke and even car strikes. after working In that industry as a superintendent, then as a production manager.
Frank is thrilled to be back in the remodeling industry, working for an innovative and imaginative company. Frank has been with LSSC since 2012.
Agustin Flores, Project Manager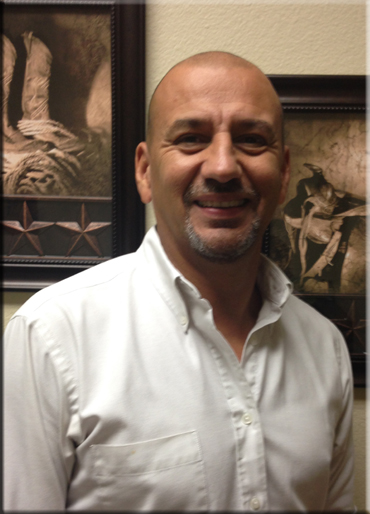 Agustin Flores has 20 years' experience in kitchen and bath design and remodeling. He has received many certificates in kitchen and bath design from Kraftmaid, Way Point Living Spaces, Quality Cabinets, Home Depot, and he is NKBA certified. I bring many years' experience in project management, sales, and customer services to the table. Taking care of customers is a priority to me (110% satisfaction).
Melissa Vasquez, Project Manager
Melissa Vasquez brings 14 years of construction experience. The first twelve of those years she worked as a Customer Warranty Representative and Manager for Medallion Homes. There she evaluate warranty claims in accordance with the builders policies, guidelines and standards to determine coverage. She also coordinated, managed and followed up on any warrantable repairs. Her responsibilities also included New Home Orientations to new home buyers. After 2008, Melissa helped with the final closing and warranty aspects of Medallion Homes. After having a successful business experience, she continued the next two years as a Warranty Manager with another national home builder before coming aboard at Lone Star State Construction. Melissa is very excited to be working with Dave, Todd, Kevin and David again, and the rest of the LSSC family
Tommy Hughen, Superintendent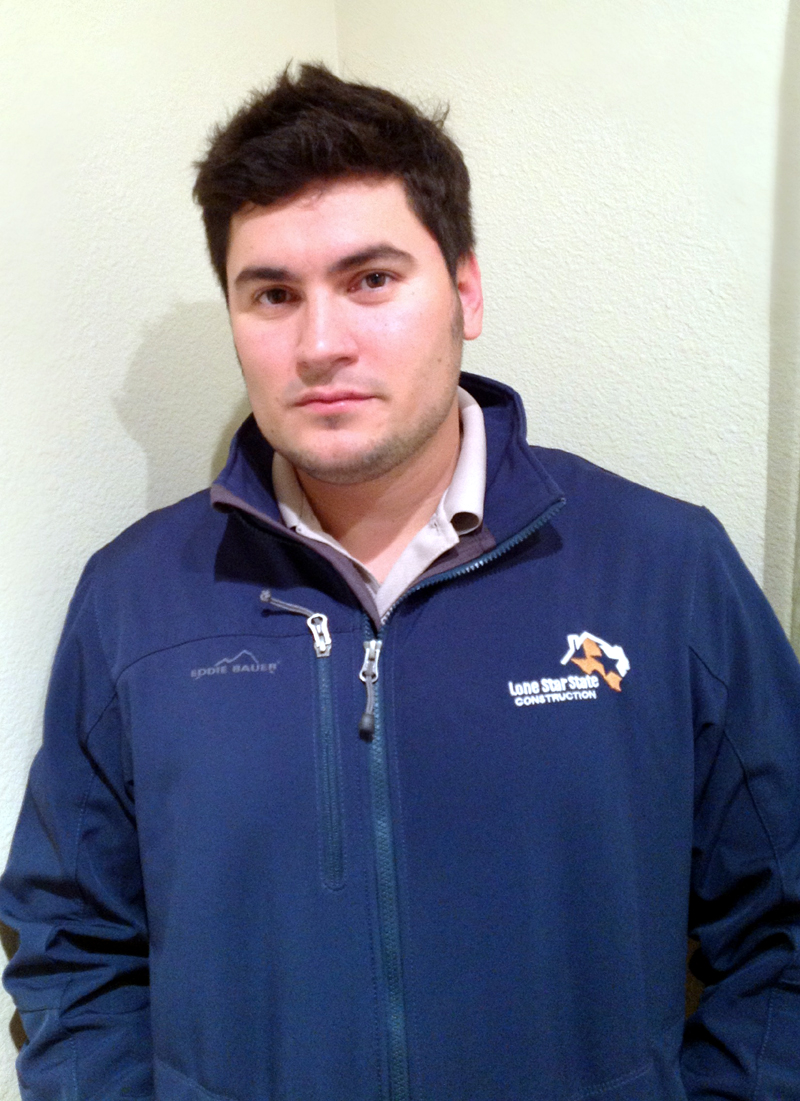 Tommy Hughen is a graduate of Texas A&M University. Involvement with construction has been intermittent with some time spent in the field before college, and now after. Tommy has spent most of his career in Management, and has been in charge of running teams with multiple employees. With his knowledge of coordination, and planning Tommy has had no problem implementing these strengths in his day to day project management. He came to the company as an Assistant Superintendent, but quickly rose to the rank of Superintendent displaying great enthusiasm and passion for his projects. In his first year with the company he was able to achieve a COTY award with a submission of "interior specialty project". He looks forward to many more opportunities for awards, and finds that the most satisfying element to his job is seeing the smile on the clients face at the end of their project. While he is not working he enjoys spending time outdoors with his Wife, and Jack Russell "Daisy".
Mike Knight, Superintendent
Mike Knight has been in the construction industry for over 30 years. He started learning the craft in high school and has worked in all aspects of construction ever since. He has worked in multi-family, maintenance, new construction, catastrophe management, warranty and remodeling. From groundskeeper to construction GM and everything in between Mike has received may certifications in order to further his knowledge and abilities so that he can bring the highest quality to his customers. He has also earned multiple awards over the years including the CotY award in 2013. Mike takes pride in every job he manages and pays close attention to detail. He will do whatever it takes to get the job done, even if that means completing the job personally. Customer satisfaction is his priority.
Anna Badger, Superintendent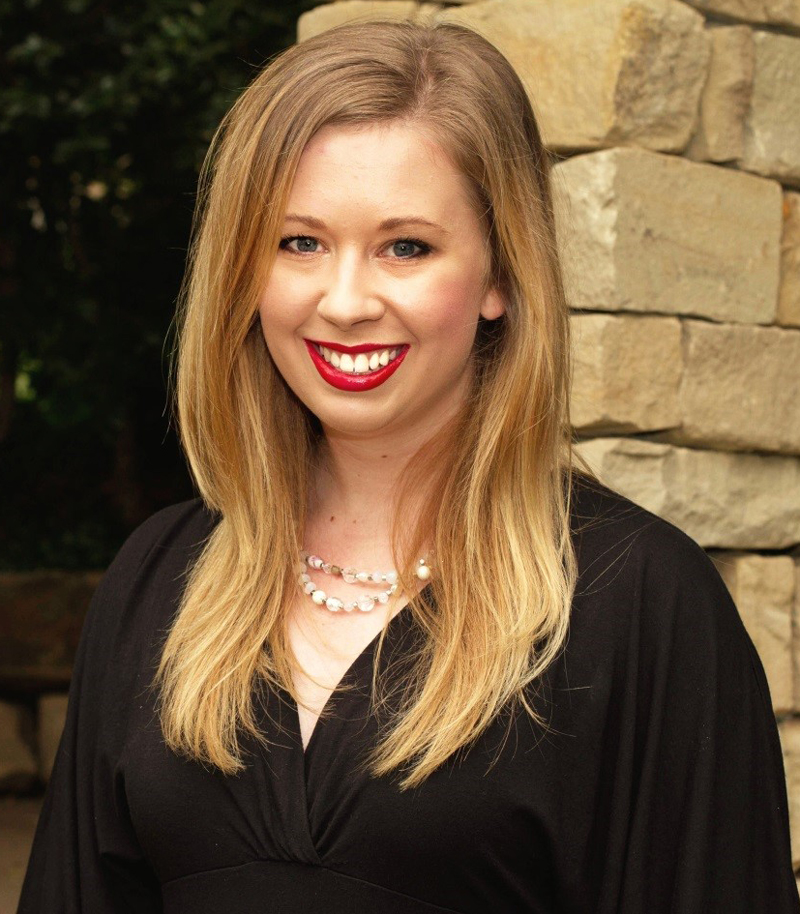 Anna Badger is currently finishing up her undergraduate degree from Texas A&M University in Global Arts, Planning, Design and Construction from the College of Architecture. She also will hold minors in Art & Architectural History and Creative Studies. Anna brings practical knowledge of many trades to Lone Star State Construction from her previous employment with Custom Wall Designs. Anna is new to Lone Star State Construction and is excited to start superintending projects for the company.
David Garcia, Superintendent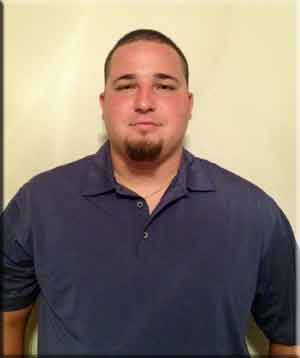 David Garcia studied at The University of Texas at San Antonio where he received his bachelor's degree in Construction Science and Management. David has been involved in the construction industry throughout his life and is eager to take the next step with Lone Star State Construction.
Billy Pham, Superintendent
Billy Pham is a superintendent working professionally with Lone Star State Construction since graduating from Texas A&M University, College Station. He holds a Bachelor of Science in Global Arts, Planning, Design & Construction from the College of Architecture with minors in Art & Architecture History and Business Administration. He continues to build his knowledge, experience, and career in construction handling various projects meeting challenges with a head-on approach.
David Arias, Home Repair Division
David heads up our Home Repair Division. He is a native San Antonian, married for twenty five years with one son. He brings thirty plus years of construction experience to LSSC. Twelve years as a contractor, eight of those for Medallion Homes where he met our President Dave Peters. David's attention to detail is his greatest asset.
Andrew Glenna, Draftsman
Andrew graduated from Texas A&M University at Kingsville in May 2013, with a Bachelor's of Science Degree in Architectural Engineering, a minor in Mathematics and an Associate's Degree in Architecture from San Antonio Collage. He is working as the draftsman for Lone Star State Construction as well as D.Michael Designs creating 3D renderings of start-to-finish remodels, additions and renovations. This allows the client to visually see the final outcome of their remodeled project. Andrew has always loved the remodeling industry and is very excited to begin his career here at Lone Star State Construction. He brings his college experience, hard work, and determination to the company and looks forward to many more years of success and growth ahead.
Pam Washington, Receptionist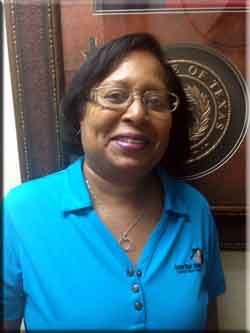 Pam has been in the construction industry for over 13 years. Originally from Central America, she was raised in Long Island New York. She moved to San Antonio in 1980. Married for 32 years, with three grown children, her roots grow deep into the heart of Texas. She brings Lone Star State a wealth of information and experience in customer service, along with great administration skills. She loves to help others, and always has a smile for whoever comes into our doors!
Last updated (Thursday, 26 February 2015 11:38)